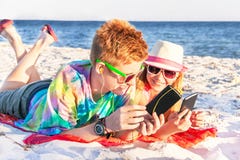 There is nothing like hearing the sounds of summer while enjoying a day at the beach. There is no better way to enjoy a beach day than to listen to tracks by artists who were also inspired by the sounds of the beach. Add these artists to your beach playlist for the full beach experience!
Tennis
is a band made up of a husband and wife duo from Colorado. Right now, they are on a boat sailing the Pacific Ocean. All of their sounds and songs are inspired by their adventures at sea. Most of their songs talk about their experience on the water. They started creating their music in 2010. Listen to these sounds from their adventures at sea:
1. Origins
2. Marathon
3. Seafarer
The band Beach House is made up of two people and the band originated in Baltimore. They formed in 2004, and they have six studio albums. Their chill beach sounds are perfect for a beach day wherever you are. Check out these chill beach songs by them:
1. Zebra
2. Better Times
3. Other People
Best Coast is made up of two people, Bethany Cosentino and Bobb Bruno. They are a California based band that specialize in creating teen beach music. They talk about real life related things over beach tunes. Check out these beachy tunes by them:
1. Our Deal
2. The Only Place
3. California Nights
Real Estate is a New York and New Jersey based band. They were friends in college before the band was created. Check out these top songs by them:
1. Talking Backwards
2. Beach Comber
3. It's Real
Beach Day says it in their band name, they make the best music for beach days! This duo is based in Florida, and they are purely about making fun music. Get loose and have fun to these beach songs:
1. Beach Day
2. Boys
3. Trip Trap Attack
This guest post is contributed from Beachside Getaway, a Hilton Head Island vacation rental.